A Richard Jury Mystery (#23)
Written by; Martha Grimes
Read by; Steve West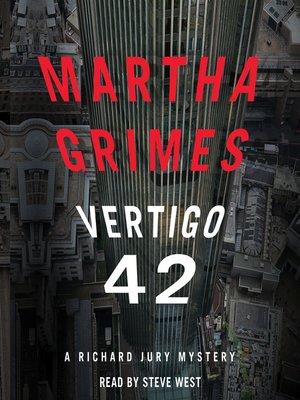 Published by; Audioworks
Run Time 12 Hours
Per the blurb; Richard Jury is meeting Tom Williamson at Vertigo 42, a bar on the forty-second floor of an office building in London's financial district. Despite inconclusive evidence, Tom is convinced his wife, Tess, was murdered seventeen years ago. The inspector in charge of the case was sure Tess's death was accidental—a direct result of vertigo—but the official police inquiry is still an open verdict and Jury agrees to re-examine the case.
For me, this book was slow and to be honest, I became bored. It starts like a sunday afternoon stroll and by the time I'd given up, mid-point, hadn't gotten any better. I found the characters to be nominal and the plot lacking.
This was my first venture into Grimes's Jury character and based on this book alone I would not repeat it. I've been told by long time Grime fans that this isn't her best work and for this reason, I'm going to get another book, probably book 1.
As for production and narration, I found both to be the high quality I've come to expect from Audioworks productions. Steve West's narration was about the only thing keeping me listening.
I personally would not recommend the book for the above stated reasons. Anything I disliked about it? Again already stated.
I like remind my readers that this is my opinion and is subjective. Others may very much enjoy the book, but I did not.